Go and see it
Just a few steps.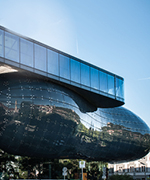 Kunsthaus Graz
www.museum-joanneum.at/kunsthaus-graz
With its avant-garde design, the locals affectionately call Kunsthaus the Friendly Alien and, built in 2003, when Graz was the European Capital of Culture, you can hardly imagine the city without it. Or the exhibitions of work by contemporary artists of standing housed here. The museum shop alone is worth a visit.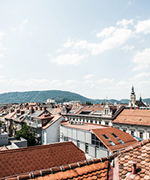 Grazer Altstadt
There's nowhere near enough space here to list everything: historic, narrow alleys, splendid baroque streets, Renaissance facades, a lively market scene on Hauptplatz and a great deal of Mediterranean flair everywhere. And to make sure it stays that way, Graz has been a UNESCO World Heritage Site since 1999.
More sights
Schloßberg
Many paths lead to Graz's own picturesque mountain with its clock tower: 260 steps, a lift or a funicular railway.
Murinsel
Café, playground, amphitheatre: All this on an artistically artificial island that is also a bridge.
Landeszeughaus
One of the most important armouries of the Habsburg Empire, and today, the largest armoury preserved in its original form in the world.
Schlüsselmuseum
Over 13,000 locks and keys of every kind, and their histories make a visit to this collection an unforgettable experience.